ANN ARBOR, MI – June 14, 2017 — Michigan Garden Clubs, the umbrella organization serving 174 affiliated garden clubs throughout Michigan, installed new leaders at its 86th annual conference held June 7-8 in Ann Arbor.
Carol Brodbeck of Ypsilanti took the helm as president. Assisting Brodbeck is a new executive board, which includes: Janet Hickman of Bellaire as First Vice-President in charge of district activities, Jean Goetz of Okemos as Second Vice-President in charge of civic affairs, Rita Crawley of Dundee as Third Vice-President in charge of education and schools, Sharma Zollinger of Williamsburg as Fourth Vice-President in charge of gardening and conservation, Jane Morse of Cass City as Recording Secretary, Jenny Bond of Mason as Corresponding Secretary, Rosemary (Bunny) LaDuke of Plainwell as Treasurer, Kathy Mikuska of Fenton as Parliamentarian, Ruth Moline of Livonia as District I Director, Chris Kosal of Monroe as District II Director, Evelyn Flynn of Kalamazoo as District III Director, Monica Taylor of Grand Haven as District IV Director, Sue Soderberg of Traverse City as District V Director, MariAnn Saenen of Caro as District VI Director and outgoing President Marilyn McIntosh of Gaylord as Advisory Committee Chair.
Brodbeck chose "Grow and Share" as the theme of her tenure.
"Of course it relates to 'growing' plants and 'sharing' with others," Brodbeck said, but that's just the beginning. It also refers to members growing in knowledge, skills and leadership and sharing the fruits of their achievements with the community.
Brodbeck has designated Michigan Pollinator Gardens as the signature project of her term. Her goal is to get garden clubs throughout the state to plant and maintain more pollinator-friendly gardens.
These gardens contain plants that are hospitable to butterflies, bees and other pollinators throughout their life cycles. They contain host plants where females will lay eggs so the larvae can feed when they hatch, as well as nectar plants for adults.
Brodbeck said there are many reasons she chose Michigan Pollinator Gardens as a focus.
"Michigan's third major industry is agriculture and floriculture, following automotive and tourism. Pollinators are threatened, our world's food supply is dependent upon pollinators, and we are to be good stewards of the earth," Brodbeck said. "My vision is to carpet Michigan with Michigan Pollinator Gardens from the Ohio and Indiana borders to the northern-most point and from east to west — basically rolling out the red carpet for all pollinators."
Both the "Grow and Share" theme and "Michigan Pollinator Garden" project will be around for the foreseeable future. First Vice-president Janet Hickman, who will be president of Michigan Garden Clubs from 2019-2021, said she plans to continue with both.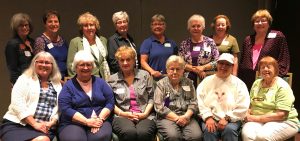 .
The Michigan Garden Clubs 2017-19 Executive Board: Front row, from left: Evelyn Flynn, Carol Brodbeck, Jean Goetz, Sharma Zollinger, Kathy Mikuska, Ruth Moline. Back row, from left: Chris Kosal, Rita Crawley, Marilyn McIntosh, Sue Soderberg, Janet Hickman, Monica Taylor, Jane Morse, Rosemary (Bunny) LaDuke. Not shown: Jenny Bond and MaryAnn Saenen.